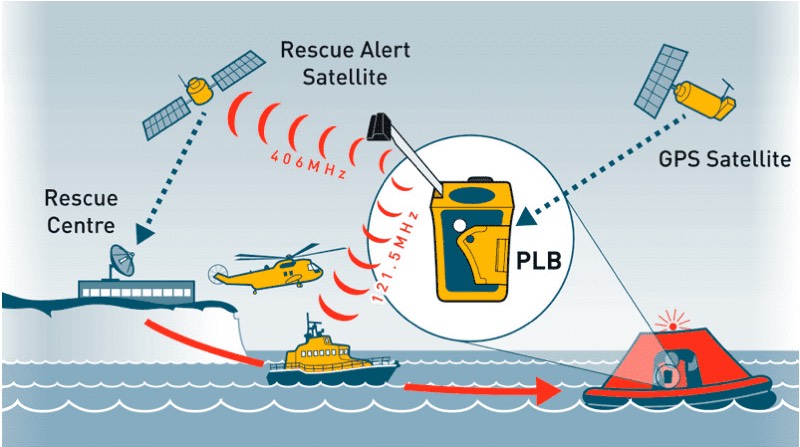 Personal Location Beacons are simple devices designed to bring rescuers to your exact location in the event of an emergency. They emit a signal that can be picked up by emergency services – even where you don't get a mobile phone signal as their signals are picked up by satellites in orbit.
Personal Location Beacons work just like their EPIRB on the commercial yacht, cargo vessel, but as they are portable they have a few differences. They are smaller, allowing them to be carried on your person and use the same Cospas-Sarsat satellite communication as the larger EPIRB equipment.
Some PLB's include GPS (Global Positioning System) sends GPS location via AIS every minute so you can be navigated to the PLB to within of its location.
The Cospas-Sarsat system became operational back in 1985 and now has over 1 million connected units and devices connected to the system. By using the 406mhz frequency, it can relay information via ground-operating tracking stations and mission control centers,
The main advantage is that if your Personal Location Beacon is correctly registered and you are working on another ship – or even on land – you're still going to be found if anything goes wrong as it is registered to you and not to your ship.
It is also reassuring to note that the device is activated automatically upon immersion in water as well as manually, so if any injuries are sustained which inhibit movement or the man overboard is unconscious they will still be transmitting their rescue signal straight away.
Reference fr. : martek-marine.com
Cr.picture : 35knots.com
This resolution notes that safe manning is a function of the number of qualified and experienced seafarers necessary for the safety and security of the ship, crew, passengers, cargo, and property and for the protection of the marine environment. In addition, it highlights that the ability of seafarers to maintain observance of relevant requirements is also dependent upon conditions relating to training, hours of work and rest, occupational safety, health and hygiene and the proper provision of food and that international acceptance of broad principles as a framework for administrations to determine the safe manning of ships would materially enhance maritime safety, security and protection of the marine environment. 
The objectives of these Principles are to ensure that a ship is sufficiently, effectively, and efficiently manned to provide safety and security of the ship, safe navigation, and operations at sea, safe operations in port , prevention of human injury or loss of life, the avoidance of damage to the marine environment and to property, and to ensure the welfare and health of seafarers through the avoidance of fatigue.
Reference fr. IMO.ORG
Principles of minimum safe manning
The capability to:
1 maintain safe navigational, port, engineering, and radio watches in accordance with regulation VIII/2 of the 1978 STCW Convention,as amended, and also maintain general surveillance of the ship.
2 moor and unmoor the ship safely.
3 manage the safety functions of the ship when employed in a stationary or near-stationary mode at sea.
4 perform operations, as appropriate, for the prevention of damage to the marine environment.
5 maintain the safety arrangements and the cleanliness of all accessible spaces to minimize the risk of fire.
6 provide for medical care on board ship;
7 ensure safe carriage of cargo during transit;
8 inspect and maintain, as appropriate, the structural integrity of the ship.
9 operate in accordance with the approved Ship's Security Plan; and
Reference fr. IMO.ORG